Radiant tubes with long service lives
Radiant tubes are exposed to corrosive furnace atmospheres at high temperatures; Depending on the service temperature and the furnace atmosphere, different heat resistant materials are used.
Thermalloys supplies radiant tubes in the following heat resistant alloys: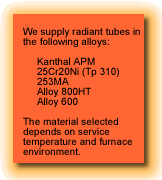 Kanthal APM/APMT; Have the best oxidation resistance of all commercial Fe and Ni base alloys, except in cracked ammonia..
Is suitable as:

Flame tubes in U-, W-, P– och tridenttubes, as well as in straight tubes.
Inner tubes in radiant tubes for recuperative burners.

25Cr20Ni (AISI 310), 253MA, (S30815), Alloy 800HT and Alloy 600.
While the 310 and 253MA alloys are used to a large extent in oxidising environment when wrought material is specified, the 800HT and Alloy 600 alloys are used under nitriding conditions. Which one is selected also depends on availability and price; These material are in general used at lower temperatures and less corrosive atmospheres than Kanthal APM/APMT.
Tube sizes; Dependent on the alloy, tubes are available in the size range, OD x wt: 79x3 mm (3.11x0.12 inch) to 248x5 mm. (9.76x0.20 inch)
Smaller and larger sizes can be supplied on request.