Heating elements manufactured from APM tubes.
In the following cases, heating elements made from APM tubes give large advantages:
In furnaces, where the carbon activity is so high, that elementary carbon can be deposited on furnace components. In such a case, there is a need to use heating elements which can work at low voltages, to avoid electrical currents on and between elements.
When there is a need for increased heat capacity and the furnace geometry is such, that the installation of traditional heating elements is difficult to perform.
When the heating elements are subject to mechanical influence and there is a risk for fracture of traditional heating elements.
Installations of heating elements manufactured from APM/APMT tubes have been made in a number of cases with excellent results; Increased heat capacity was easily added and the service lives of the heating elements increased. Examples of used geometries are shown below. Heating coils are made in Kanthal D or AF materials.
Please contact us to discuss the geometrical and thermal design suitable for your furnace.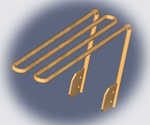 Heating element for a furnace in Denmark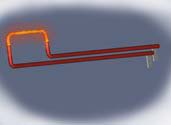 Heating element for a furnace in Japan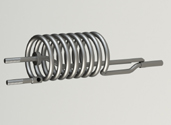 Heating coils