Muffle tubes in FeCrAl- and FeCrNi -alloys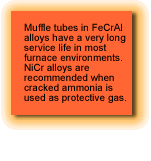 Annealing of wire, thin strip and small sized tubes are often performed in muffle tubes. The cross section of the tubes can be circular, which is typical for wire and tube, or oval in the case of strip.
The high oxidation resistance of the FeCrAl alloys often make them the most suitable material selection for muffle tubes.
The exception is when the protecting gas is cracked ammonia; In such a case, a high nickel alloy like Alloy 800HT or Alloy 600 is recommended.
253MA is often the best choice at temperatures below 900°C (1652 F).
Thermalloys can supply tubes in FeCrAl from stock in the size range OD = 15-40 mm ( 0.6-1.57 inch) in lengths up to 13 meters (43 feet).
We can also supply muffle tubes in 253MA, Alloy 600 and Alloy 800.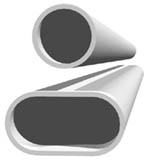 For the annealing of thin strip, the tubes can be supplied with an ovalized cross section.